E-Learning
Learn online! Less time in the classroom means more time for diving!
PADI eLearning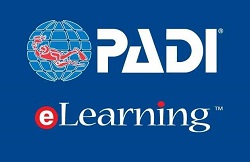 Start Your Dive Course Right Now With PADI eLearning!
Whether you are on the go or want to take it slow, now you can complete the knowledge development portion of several PADI Courses online with PADI eLearning. PADI eLearning gives you the flexibility of completing the knowledge review portion and the final exam of your course through a virtual classroom. Once you completed the final exam online, visit one of our PADI Dive Resorts and finish the practical part of your course with one of our highly qualified instructors - it's that simple.
p >
Benefits of eLearning

• Convenient online access to knowledge development course material for one year.
• Unlimited and unrestricted access to an always updated online version of the PADI Course Manual.
• Complete knowledge assessment at your own pace from home. Save up to 2 days of your holiday and spend them building experience as a newly certified diver after the course, rather than in the classroom as part of the course!
How it Works
Choose which of our diving centers you wish to take your course at and register this with PADI through one of the direct affiliation links below. Choose your PADI Course and pay the appropriate fee directly to PADI in order to register as an eLearner to start the Knowledge Assessment. Complete the Knowledge Reviews after each segment and contact the instructor through the eLearning module in case of questions. At the end complete the Final Exam and print out your "eLearning Record". Bring it to your chosen dive center upon your arrival and start directly with your underwater adventure. Your instructor will also have you complete a Quick Review on site sometime prior to completing their certification in order to verify your understanding of key issues. You will only be asked to pay for the practical elements of the course to Red Sea Diving Safari (as per our eLearning price list).
Direct Affiliation Links:
If you have questions, please contact us at diving@redsea-divingsafari.com
---
Note: The total cost of the PADI eLearning course is made up of two parts: 1. The Red Sea Diving Safari eLearning course fee (as listed on our price lists) and 2. The PADI fee, which is paid directly to PADI through the direct affiliation links above. The prices listed on our website for PADI eLearning courses include the practical part of the course provided by Red Sea Diving Safari only. The PADI fee includes access to the eLearning module, the online knowledge development program for one year, plus unlimited internet access to the most updated version of the PADI Course Manual online. When booking an eLearning course there is no additional on-site Certification and Manual fee as this is included in the fees paid to PADI through the direct affiliation link above.
Please see our
eLearning Price List
| | |
| --- | --- |
| Access | |
| Minimum Divers | |
| Minimum Qualification | |
| Depth Range | |