WORKSHOPS
Workshops are an important part of our Eco-Diving program
Red Sea Diving Safari is involved in a wide range of efforts and educative programs like Reef Check, Marine Biology Workshops, Videography Workshops, Photography Workshops.

Free Diving Workshop
No Tanx have been running free-diving courses and clubs for over 10 years and have designed the perfect itinerary to compliment Marsa Shagra's idyllic setting. For qualified free-divers they offer a guided holiday of a lifetime, for beginners the opportunity to learn the beautiful art of free-diving.
Developed by applying yoga techniques to physiological training methods, The NTStyle is the only complete Apnea Training System. Whether you are a scuba diver, Health Apneist or recreational free-diver this luxury holiday/course is perfect to help you learn and develop. Activities Include:
Competition training
Rope clinics
Sled Diving
Dry exercises (Inc: Yoga, breathing and relaxation techniques)
WORKSHOP LEADER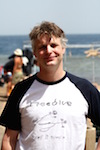 About Marcus Greatwood
Marcus has coached 5 world records with Herbert Nitsch, including the 214m NoLimits record set in 2007. Marcus has coached athletes of many disciplines, set 12 National records, and personally held several UK records in "depth apnea"
Contact
Marcus Greatwood
Email:
info@oonasdivers.com
Workshop Schedule
| | |
| --- | --- |
| Access | |
| Minimum Divers | |
| Minimum Qualification | |
| Depth Range | |