WORKSHOPS
Workshops are an important part of our Eco-Diving program
Red Sea Diving Safari is involved in a wide range of efforts and educative programs like Reef Check, Marine Biology Workshops, Videography Workshops, Photography Workshops.

New! Red Sea Marine Life Workshop
We are very excited to bring you this new workshop for 2023 - for all keen marine life enthusiasts and photographers!
Leading this workshop is Andrey Ryanskiy, author of 'Red Sea Marine Life' which was released in September 2022 and which features many photos taken at Marsa Shagra, Marsa Nakari and Wadi Lahami.

During his stay to produce this book in 2021, Andrey was fortunate to find some rare species and discover new species right here on our house reefs. Now he would like to share those discoveries with you, and help you learn more about marine biology and photographing marine life in natural conditions.
5 day workshop includes:
- Diving with the workshop group
- Presentations, lectures, Q&A
- Fish ID e-Card
- Course e-booklet
- Certificate
The course is held consecutively for 5 days in Marsa Shagra, Wadi Lahami and Marsa Nakari - choose one location or more than one. The program is customised for the unique features of each location.
If you would like to purchase Red Sea Marine Life by Andrey Ryanskiy, it is available in hard copy from Amazon or as an e-version here.
WORKSHOP LEADER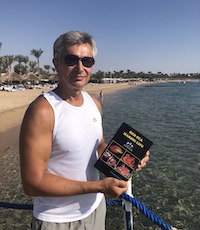 About Andrey Ryanskiy
Andrey Ryanskiy, a resident of Sharm El Sheikh has achieved highest levels of diver certification in scuba, trimix, caves and has won international photography competitions. He has a deep interest in marine life and dedicates his dives to the search for rare marine life. He has published a series of photo guides covering Southeast Asia and the Red Sea, with a unique quality of content and scientific expertise.
Contact
Andrey Ryanskiy
Email:
info@redsea-divingsafari.com
Workshop Schedule
Location:
Duration: 5 days
Contact: reservations.ma@redsea-divingsafari.com
Special introductory price!
Workshop fee applies on top of accommodation and diving
Location:
Duration: 5 days
Contact: reservations.ma@redsea-divingsafari.com
Special introductory price!
Workshop fee applies on top of accommodation and diving
| | |
| --- | --- |
| Access | |
| Minimum Divers | |
| Minimum Qualification | |
| Depth Range | |