WORKSHOPS
Workshops are an important part of our Eco-Diving program
Red Sea Diving Safari is involved in a wide range of efforts and educative programs like Reef Check, Marine Biology Workshops, Videography Workshops, Photography Workshops.
Yoga Kundalini Workshop - New Beginning – New Moon in Scorpio
Let yourself dive deep into this workshop in the Scorpio New Moon - a new chapter to all investments: emotional, spiritual and financial.
The Yoga workshop from 12th - 14th of November 2023 will be led by Gosia, our on-site yoga teacher.
During this New Moon we will feel ready to express ourselves and express what is in our hearts.
New Moon in Scorpio is all about sexuality and the sexual organs - genitals, prostate, urethra.
3 day workshop includes:

5 classes - 11hours of Yoga practice with Kundalini technology - yoga philosophy, breathing, meditation, chanting, Ayurveda elements. You will learn how to breathe, move and find stability and comfort. You will experience your energy rising through chanting and meditation, aided by your own breathing.
Daily planned schedule
Day 1
14.30 – 17.30 Arriving Welcoming Meditation, Opening Class - Kriya for Elevation
18.30 - 21.30 Dinner - Restaurant
22.00 Good night time
Day 2
06.00 – 08.00 Sankalpa and Nabhi Kriya
08.00 - 09.30 Breakfast - Restaurant
10.00 - 12.00 Female and Male Sexual Potency and Sitali Pranayam
12.00 – 14.00 Lunch – Restaurant
14.00 – 16.00 Free time
16.00 – 18.00 Meditation
18.30 - 21.30 Dinner - Restaurant
21.30 Good night time

Day 3
06.00 – 08.00 Sankalpa – Sat Kriya and Heart opening meditation
08.30 - 09.30 Breakfast
09.30 - 12.00 Departure
We would like to welcome you to the Bawadi Bedouin Lounge for an evening of traditional Bedouin music and atmosphere.
The yoga workshop is conducted in the Yoga Shala by the sea. Immerse yourself in a new dimension of your breath and relax to the sound of the waves, the wind and the Nepalese singing bowls. Please bring your mat with you.

WORKSHOP LEADER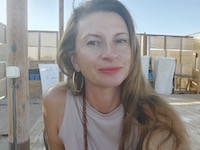 About Gosia Sladkowska
Gosia is our very own resident yoga instructor. She has been teaching yoga for six years, in tradition of hatha, vinyasa and kundalini. Her approach into yoga is very simple: connecting mind with body through breath,
movement and meditation.

Contact
Gosia Sladkowska
Email:
gosia@yogaofthebreath.com
Downloads & Documents
New Beginning - New Moon In Scorpio
Workshop Schedule
Location:
Duration: 3 days
Contact: yoga@redsea-divingsafari.com
A minimum of 3 participants is required, otherwise our normal yoga schedule is available.

Foreigner/ Non-Residents €100
Egyptian / Residents 3800 EGP

Not included: Accommodation, Transportation (flights or airport transfers, water activities (snorkeling, scuba diving and free diving), drinks and items from the bazaar, cafeteria or Bedouin lounge.
Additional classes: €25 per person per session
| | |
| --- | --- |
| Access | |
| Minimum Divers | |
| Minimum Qualification | |
| Depth Range | |