WORKSHOPS
Workshops are an important part of our Eco-Diving program
Red Sea Diving Safari is involved in a wide range of efforts and educative programs like Reef Check, Marine Biology Workshops, Videography Workshops, Photography Workshops.
Yoga Workshop December - Yoga Teacher Training
Swapping the yoga mat in the studio with the back drop of Marsa Shagra can only improve the connection with your body, mind and spirit. This relaxing environment is the perfect destination and you can even combine these new Yoga experiences with some mind blowing diving.
In Yoga (Union) the body and breath are intimately connected with the mind. By controlling the breath and holding the body in poses, yoga creates harmony. The postures are designed to ease tensed muscles, to tone up internal organs and to improve flexibility of the body's joints and ligaments.
For a diver, the essential elements of yoga can significantly reduce your likelihood of injury. Specific exercises can improve core stability, working on the lower back to protect it from trauma of twin sets and weight belts. Targeting the legs and hips can improve your finning technique, stamina and your general fitness, improving your flexibility and making diving a whole lot easier, especially for wreck and cave diving.
For those who want to slow down on their gas consumption, the breathing exercises fundamental in yoga are also ideal for improving lung capacity and encouraging effective, steady breathing and ultimately extend your time.
The Yoga workshop is run by the highly experienced and renowned, Wenche Beard of Yoga Life Retreats.
RESTORATIVE YOGA – Deeply nurturing and gentle practice to relax and revitalise your body and mind.
VINJASA FLOW – The Yoga postures run smoothly together in a sequence synchronising breath and movement.
HATHA YOGA – Purifies body and mind through the use of postures, gestures, breath control and cleansing techniques.
WORKSHOP LEADER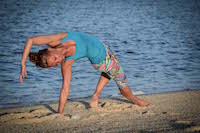 About Wenche Beard
Wenche Beard is a fully qualified British Wheel of Yoga teacher (BWY), Angel Therapy Practitioner (ATP), Sound Healer, Emotional Freedom Technique Practitioner (EFT), Meditation and Inner Journey Work Facilitator, Thai foot Massage Therapist and a Reiki Master. She is the founder and Director of the Yoga-Life Studio with over 15 years teaching experience.
Contact
Wenche Beard
Email:
info@oonasdivers.com
Workshop Schedule
| | |
| --- | --- |
| Access | |
| Minimum Divers | |
| Minimum Qualification | |
| Depth Range | |