ECO EFFORTS
Get more from your holiday experience

Roman Ruins at Marsa Nakari - the ancient port of Nechesia.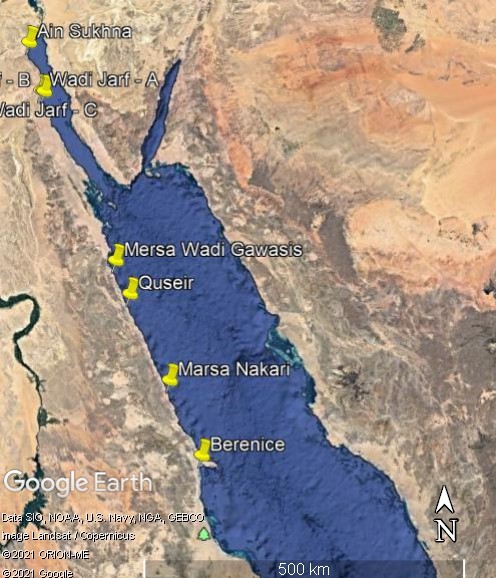 Since the 3rd millennium B.C, Egyptians left traces of their interaction with the Red Sea and navigation to different destinations. The oldest human-built port excavated so far was found at the Wadi Jarf site 200 km north of Hurghada city and dates to the reign of King Senefru and King Khufu, the builder of the great pyramid at Giza around 2500 B.C. This port was used to cross the Red Sea to a corresponding harbour in the Sinai Peninsula to obtain copper and turquoise from the mines in southern Sinai's mountains. Another port used for the same purpose was excavated at Ain Sokhna, around 350 km north of Hurghada city. It functioned starting a few years after Khufu's reign until around the end of the second millennium B.C (about 1050 B.C). Finally, a third harbour from the Pharaonic period was excavated at Mersa Wadi Gawasis, around 100 km south of Hurghada city. This harbour was used to reach the mysterious land of Punt in the southern Red Sea for trade purposes. If you visit the Hatshepsut temple in Luxor, you can find outstanding documentation for one of these trips to Punt, where Egyptians imported frankincense, among other goods.
During the Roman period, Egyptians established 3 more harbours south of the Red Sea at Berenike, Marsa Nakari, and Myos Hormos at Quseir. These harbours were used to reach southern Africa, the Arabian Peninsula, and the western coasts of the Indian ocean. Moreover, the harbour at Quseir kept functioning through the Islamic period until the 16th century A.D.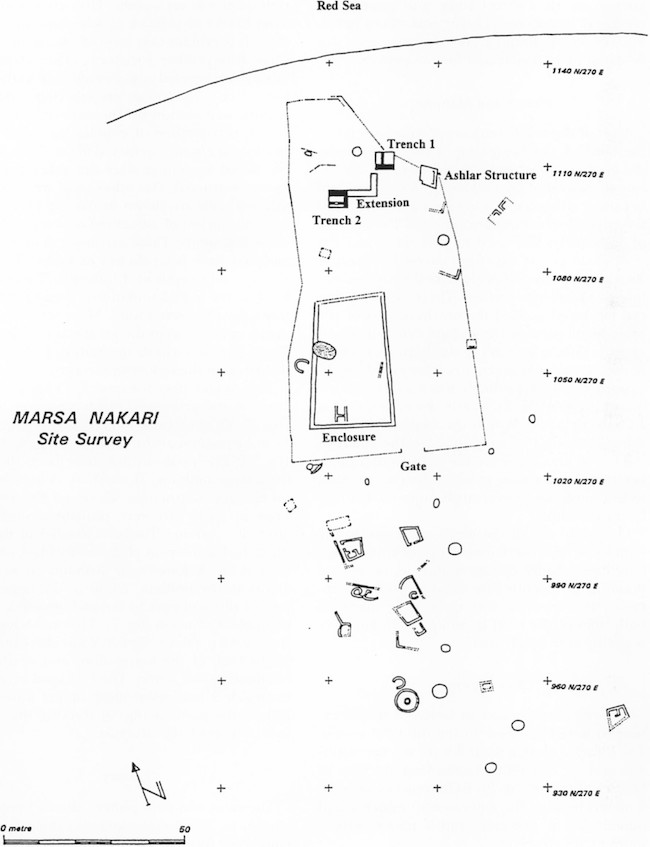 Marsa Nakari site was discovered in 1999. The survey and the finds proved the site's function as a port for long-distance trade. It's believed to be the ancient port of Nechesia that was established during the Ptolemaic period (around 3rd-1st centuries B.C) and kept functioning till the 4th-5th century A.D and connected to the Nile Valley city of Edfu.
The part of the site excavated so far consists of a surrounding limestone wall with a gate on the southern side and some rectangular limestone settlements suggested to be used as warehouses.
Several remains were found on the site, such as fragments of pottery amphoras, lamps, and bowls dating back to the first/second century A.D and fourth-fifth century A.D. And several beads and pendants, crafted from various materials such as minerals. Also, some coins, the earliest among them, date back to the first century A.D. In addition to several nails from different materials, such as copper alloy.
| | |
| --- | --- |
| Access | |
| Minimum Divers | |
| Minimum Qualification | |
| Depth Range | |